Introduction
Hello everyone! My name is Alan and I am the admin of rushcard.io. One of the most popular features we have on the site is our Booster Pack Simulator. Within this simulator, you can open booster packs for fun to try and pull rare cards!
Opening Packs
Once you visit the pack simulator, you can choose from a variety of packs released through the Yu-Gi-Oh! Rush Duel history. You can simply click on any desired pack to begin the simulation. Each card will be loaded in with the card back show, you can then either flip each card individually or hit the "Flip Cards" button to load them all at once.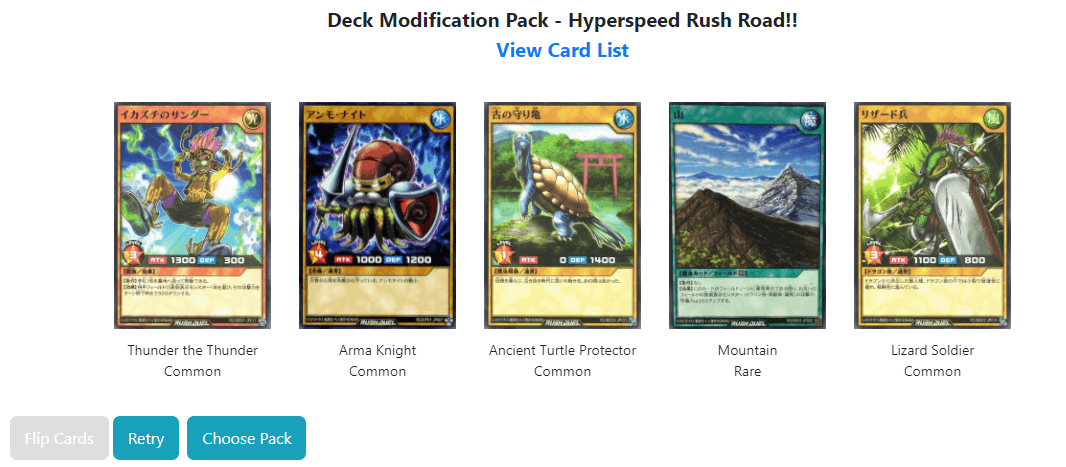 Once flipped you then have a couple of options. You can "Retry" the pack to open another one, you can "Choose Pack" to go back and choose another pack, and finally, if you are logged in, you can "Save Pack to Collection" which will upload the opened pack to your online collection.
Draft Mode
We also have a draft mode that you can use to open multiple packs concurrently. We have two different types of draft modes; Regular Draft and Custom Draft. A Regular Draft is setting the number of packs you wish to open and choosing a pack. This will open the same pack times the number of packs you have chosen to open. A Custom Draft is where you choose how many packs to open from a variety of different packs. Functionally they both operate the same.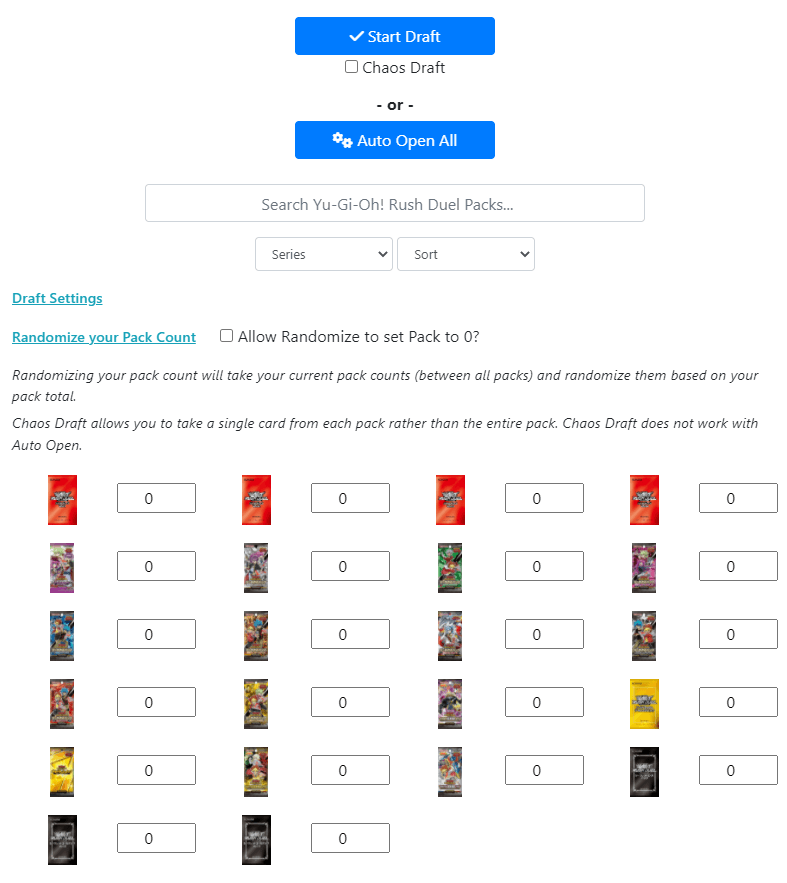 The Draft Modes are fun methods to open a bunch of packs, save them to your online collection and then try to build a deck out of the packs you have opened. A very popular new format to arise from this type of drafting is known as "The Progression Series". A good example of this is from a Yu-Gi-Oh! YouTuber who is known as Cimo.
Build a Deck
Once you have completed your draft, you can begin building a deck! Our online deck builder has a nifty feature where you can browse your saved online collection! This makes it extremely easy to build a deck from the packs you are opening. To enable it, make sure you are logged into the site and simply set the "Collection Mode" dropdown box to "ON".

Conclusion
That is all you need to know to begin building a draft deck from our Pack Simulator! Currently, our Pack Simulator is still considered in beta. As such, card weightings may not be 100% correct nor will every card pack give out the correct sorting of each pack. This is something I am working on most days so improvements are always coming. If you need to report a bug, please feel free to do so on our forum.